WYMAN PIANO TEAMS UP WITH WEB ONLY PIANO
September 26, 2006
Wyman Piano Company announces a new strategic alliance with WebOnlyPiano to provide player piano CD software and promotional items for distribution with the new Wyman CD player system.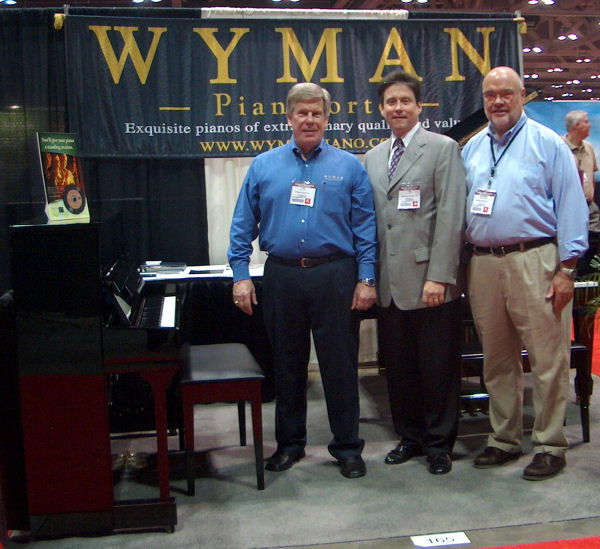 Pictured Left to Right: Tim Laskey (Wyman Piano), Ed Vodicka (WebOnlyPiano), and George Benson (Wyman Piano)
"The new Wyman CD player system is not just another 'me too' player piano system," commented George Benson, Wyman national sales manager, "nor are the all new WebOnlyPiano CD recordings. We feel they are the perfect compliment for our new player system, giving our consumers a refreshing new array of player piano software for every musical taste."
Now available as an option on all Wyman grand piano models, the new Wyman CD player piano system features popular user-friendly controls and an unobtrusive trim-line design, as well as proprietary innovations in player piano technology. DSP based auto-calibration, true reproduction of expression levels, and improved note repetition are among the notable innovations that set Wyman CD apart from traditional player piano suppliers.
The new collection of WebOnlyPiano discs is unique, recorded by professional studio musicians and orchestras in world class studios in Hollywood and other venues, transforming the Wyman grand piano into a virtual entertainment system. "While our new player system will play software from other player piano software providers, these new WebOnlyPiano recordings are truly a cut above," stated Tim Laskey, Wyman president, "providing a totally new and elevated musical experience."
"Our WebOnlyPiano recordings are produced with the same care, musical values, and creative flair as the best music recordings available anywhere," said Ed Vodicka, WebOnlyPiano vice president. "We value our new association with Wyman Piano, and are pleased to make our new and expanding CD library available to Wyman consumers."
Wyman Piano is currently bench packing WebOnlyPiano Demo discs and other promotional materials with every Wyman CD player system grand piano. In-store concert appearances by Ed Vodicka, as well as other retail promotional opportunities, are available for Wyman dealers.
For more information, contact George Benson, National Sales Manager, at 941.661.0200 or at george.benson@wymanpiano.com.
Contact information:
George A. Benson - National Sales Manager
Office/Cell: 941.661.0200
E-mail: george.benson@wymanpiano.com
Fax: 206.202.0382
---
WYMAN PIANOFORTE
"Exquisite pianos of extraordinary quality and value!"