Wyman Piano Will Display Its Player Piano System at Summer NAMM
May 06, 2006
PRESS RELEASE: for immediate release
Come see us at the Summer NAMM show in Austin, TX July 14th, 15th, & 16th at booth #165. Wyman Piano will have a new facory installed CD Player Piano System on display! Feel free to download and/or print our PDF Flyer.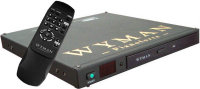 For more pre-NAMM information and appointments, email: info@wymanpiano.com.
RELATED NEWS:

WYMAN PIANOFORTE
"Exquisite pianos of extraordinary quality and value!"