WYMAN'S NATIONAL SALES MANAGER, GEORGE BENSON ELECTED AS TREASURER PMAI
April 21, 2006
PRESS RELEASE: for immediate release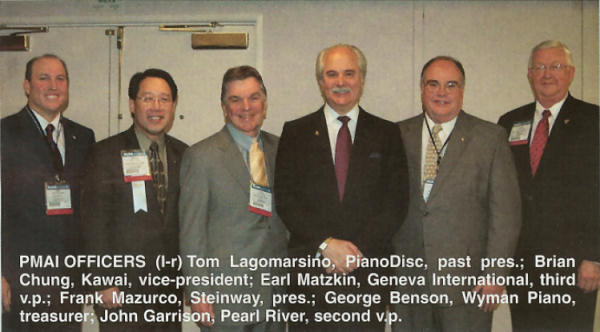 REPORT FROM NAMM:
WHO ARE THE typical piano purchasers, and what motivates them to buy? The Piano Manufacturers Association International (PMAI) recently probed these and other critical questions with an extensive consumer survey, conducted by The Phelps Group, a leading integrated marketing firm based in Los Angeles. Initial results released at the NAMM show provided tantalizing insightes into how to stimulate the long-stagnant piano market.
Surveys of over 1,000 recent purchasers, some 700 piano shoppers, as well as retailers, teachers, and technicians revealed some surprising--and not-so-surprising--data. Confirming conventional wisdom, the survey found that 63% of pianos were purchased by consumers between the ages of 35 and 44, and 39% of them reported income in excess of $100,000. Also conforming to conventional wisdom, the piano buying process is time-consuming: 38% of buyers reported shopping for over six months, and another 20% took one to three months to make a buying decision.
In the age of the internet, however, the salesperson remains a critical element in the piano buying process. Sixty-two percent of consumers reported that salesperson was "highly influential" in shaping their buying decision. Consumers may not shop as much as dealers think, either: 26% of buyers bought from the first store they visited; 20% visited two stores before buying; and 23% visited three stores.
For all the industry concern about deceitful sales presentations, unsavory bashing of the competition, and high pressure closing techniques, the buyers seem unfazed. Forty-six percent said their piano buying experience was "pleasant," and another 40% said it was "somewhat pleasant."
More detailed results of the PMAI survey will be released in an upcoming issue of The Music Trades.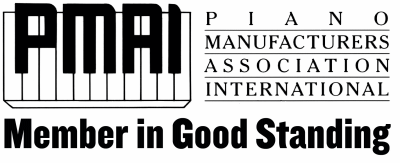 ---
WYMAN PIANOFORTE
"Exquisite pianos of extraordinary quality and value!"