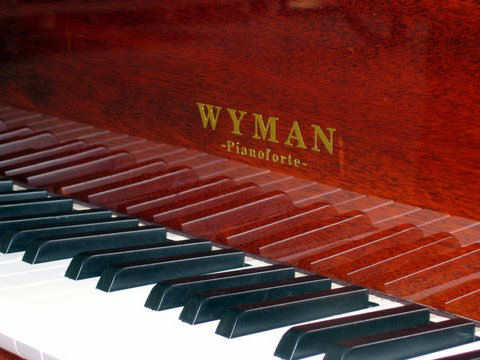 October 26, 2006
PRESS RELEASE: for immediate release
WYMAN PREVIEWS NEW PREMIUM GRAND LINE AT MUSIC CHINA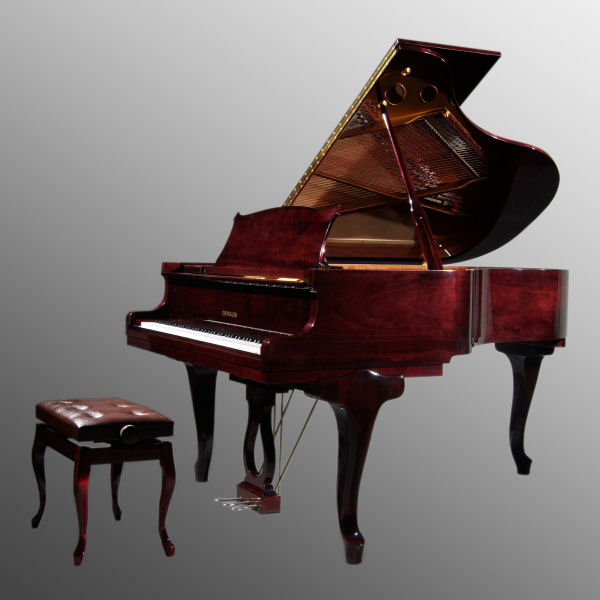 GP190HPM-C - High Polish Mahogany
Wyman Piano Company previewed the Wyman Pianoforte, its new premium grand piano line, to select music dealers at the recent Music China Show held in Shanghai October 18-21. The company announced it will formally display this new line, featuring the stunning new 6' 3" Wyman Pianoforte Model GP190 and others, at the upcoming NAMM Convention in Anaheim in January, 2007.
Designed and hand crafted for musical excellence, these beautiful new Wyman Pianoforte grands feature superior musical performance that will please even the most discriminating musician. A talented team of designers and skilled technicians, rich in piano making experience spanning more than half a century, have come together to create the stunning new Wyman Pianoforte grand piano in a new state-of-the-art factory in Northern China.
"There are no shortcuts to beautiful piano tone," said Tim Laskey, Wyman president. "These are hand crafted instruments in the most literal sense, from design through to execution. One by one, these magnificent instruments come to life at the hands of skilled craftsmen with many years experience in the art of piano building."
Wyman Pianoforte grand pianos all feature beautifully finished sand cast plates and TriPhonic™ spruce soundboards for optimum tone and durability. The Wyman 19 ply hard rock maple pinblock offers superior tuning stability. Wyman hard maple treble bridges are indiviually notched by hand, just as skilled craftsmen have done for centuries. TriPhonic™ cantilevered bass bridges used in Wyman Pianoforte grand pianos afford maximum bass performance. Wyman strings are made from premium Roslau music wire from Germany, and Wyman Pianoforte hammers are constructed from German felt, resulting in pleasing piano tone. Wyman Pianoforte grands feature the premium Yumei action constructed of hard rock maple and utilizing an extruded aluminum main rail for additional stability. Wyman Pianoforte grands feature premium Yumei spruce keys, which offer perfect key spacing and alignment for years of trouble free performance. Other cosmetic enhancements make the Wyman Pianoforte grand a beautiful addition to the décor of any discriminating home.
Priced slightly higher than the popular line of Wyman grand models already offered by the company, the new premium line of Wyman Pianoforte grands offers discriminating buyers a new alternative to traditional brands costing much more. "The new Wyman Pianoforte grand is the perfect choice for the prospect looking for superior musical performance at an affordable price," commented George Benson, Wyman national sales manager. "This new line fills a niche between our traditional Wyman grand line and the other major brands our Wyman dealers carry, offering them a valuable new profit opportunity."
For more information contact George Benson 941.661.0200 or george.benson@wymanpiano.com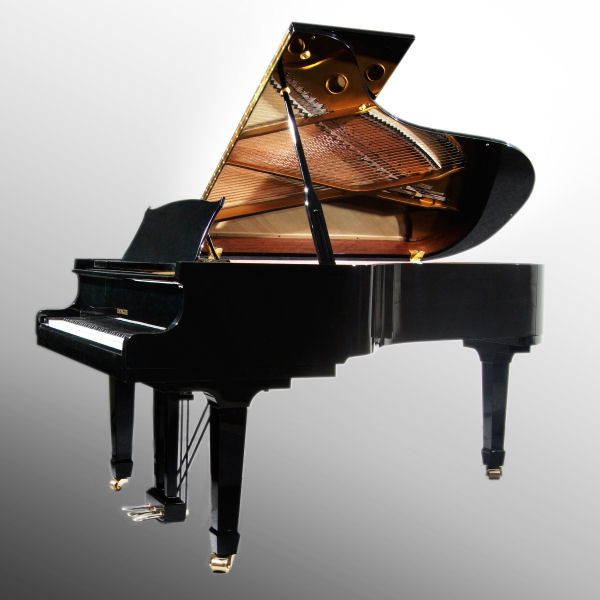 GP190HPE - High Polish Ebony